Welcome to the SNAAP Website!
Symposium Details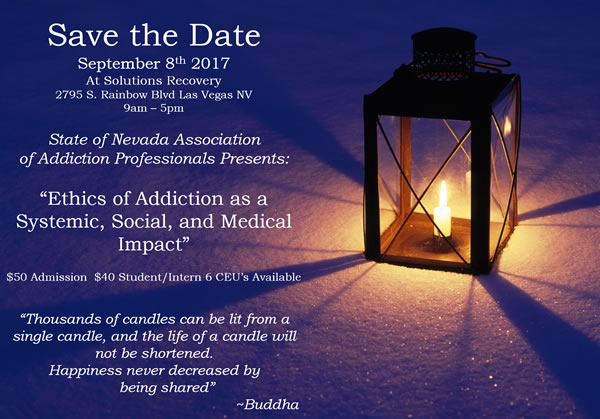 For Student or Intern Registration please email proof of enrollment or certification to SNAAPNV@gmail.com.
For questions about registration please email: snaapnv@gmail.com.
Register for the Symposium by clicking on the Pay Now button below. Registration confirmation will be emailed to you within 24 hours.
State of Nevada Association for Addiction Professionals SNAAP is dedicated to the development of addiction focus professionals by unifying and empowering them to achieve professional excellence through education ethics in diversity and standards of practices through professional development and research. SNAAP is an affiliate of NAADAC. By joining SNAAP you are also member of NAADAC.
What Does It Cost?
Student: $32.00, Associate: $64.00, Military: $65.00, Professional: $115.00
How Do I Join?
By joining SNAAP you become a member of NAADAC!
Upcoming Events
In Southern Nevada, we hold monthly meetings on the first Friday of every month. Our next meeting:
Friday, July 7th at 9am
Resolutions Recovery Center
1000 Main St. #200
Las Vegas, NV 89101
Benefits of Joining SNAAP
Over 75 hours of FREE CE credits through NAADAC's Webinar Series (worth $1,125), available online and on demand 24 hours/7 days a week.
Free subscription to NAADAC's official magazine, Advances in Addiction and Recovery
Discounted rates on nine NAADAC independent study courses (earn a total of 130 CEs)
Discounted rates for NAADAC-sponsored conferences, public policy events, NAADAC regional meetings and workshops
Discounted rates on all NAADAC publications, Hazelden publications, and Alcoholism & Drug Abuse Weekly
$100 off NCC AP national certification and re-certification of National Certified Addiction Counselor (levels I and II), Master Addiction Counselor (MAC) and other credentials until July 2016*
Reduced rates for malpractice and liability insurance for individuals, agencies, peer recovery support specialists, and students with American Professional Agency, Inc.
A national Code of Ethics, which raises the standard of care and the position of addiction treatment in the health care continuum
Influential and effective advocacy at the national level that affects your funding and policies at the state, regional, and national levels
A professional identity and association that helps preserve and honor the unique talents of addiction professionals
12 months of membership
Dues include membership in NAADAC and your state affiliate
SNAAP Board of Directors
President, Kimberly S. Landero
MA-LCADC, LMFT, CPC, LISAC, MAC, SAP approved clinical supervisor
Klandero62@gmail.com
Biographical Information: Kimberly Starr Landero graduated with a Bachelor of Arts in Humans Services Management from the University of Phoenix, Las Vegas and a Master of Arts in Psychology and Marriage and Family Therapy from Regis University. She is Licensed Clinical Alcohol and Drug Counselor (LCADC) and has worked in the field of addictions for over 19 years. A member of the National Association for Addiction Counselors (NAADAC) SINCE 1999. She is a Licensed Clinical Supervisor for LADC interns and a substance abuse professional (SAP). She is currently registered with the State of Nevada as a Licensed Family Therapist and is an affiliate of the American Association of Marriage and Family Therapy (AAMFT) and the Nevada Association of Marriage and Family Therapy (NAMFT).
Treasurer, Allan Flag BA LADC
Past President
Secretary, Summer A. Pfarr BS, CADC-Intern


Summer A. Pfarr has an Associates Degree in Woman's Studies and a Bachelors degree in Human Services with a minor in addictions treatment at UNLV. Summer Served on the board of SOAP (Student Organization of Addiction Professionals) at UNLV as Secretary, Vice President and President from 2014-2017. Summer volunteered at Salvation Army Adult Rehabilitation Center as an inpatient counselor and serves on the board of CARE Coalition as Secretary/Treasurer along with being Secretary for SNAAP. Summer has worked at Las Vegas Recovery Center since 2015 and is presently an outpatient counselor and certified alcohol and drug counselor. 

Public Outreach, Brent Poradish BA, CADC-Intern
Brent Poradish has a bachelors degree from UNLV in Psychology and is currently working on his Masters Degree in Social Work at UNLV. Brent serves on the SNAAP Board as Public Outreach Liaison and is employed at Las Vegas Recovery Center as an outpatient counselor and certified alcohol and drug counselor intern for the past 3 1/2 years.